Ally Burgess

Added by

MrSalt

Portrayed by
Valerie Hartman
Connection
Camper
Status
Deceased
Appearance(s)
Sleepaway Camp II
"You should have been the first to go!" - Angela after drowning Ally in the outhouse at the back of the camp in Sleepaway Camp II
Ally Burgess was a mean-spirited popular girl who attended Camp Rolling Hills, where she butted heads with counselor Angela Baker, who eventually killed her for her being mean to her friend and overall for being the "camp bitch."
Background
Edit
Ally, who may have been a cheerleader, attended Camp Rolling Hills, where she was quite popular. She may have gone in years past, as she claims to have slept with Sean Whitmore by the second week.
Sleepaway Camp II: Unhappy CampersEdit
Ally is first shown waking up with the other girls, but unlike them, naked. She is shown consistently to rebel against Angela's rules and questions her motives and even calls her a dyke behind her back.
As
Molly Nagle
and Sean become closer, Ally grows more jealous, confronts Molly and tells her to stay away from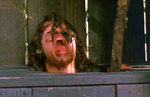 her. insulting her and telling her to go run and tell Angela.
After having intercourse with Rob, Ally returns to the girl's cabin where she finds a fake love note from Sean written by Angela to meet her at the old cabin near the hills. After Ally arrives, Angela stabs her in the back twice before she forces her into an outhouse potty before she mocks the former calling her a bad friend, bad camper and waste of flesh. Angela then drowns her in feces and leeches.
Ally's body was relocated to the nearby cabin, with leeches still present on her face.
Character
Edit
Ally served as the 'camp bitch' of the film. Angela considers Ally the worst camper at Rolling Hills. Ally hates Angela for her disciplinarian nature and for sending her good friend
Phoebe
home. She also thinks Angela is a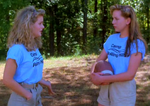 lesbian and is grossed out by her.
While Ally wants Sean Whitmore bad, he finds her nothing but trouble and does his best to stay away from her. Ally ruthlessly mocks Sean's girlfriend Molly in retaliation. When Molly comes to Angela in tears for what Ally said to her, Angela targets Ally for elimination.
Angela tricks Ally with a fake love note from Sean to meet her at the back end of the camp. When Ally gets there, Angela stabs her in the spine with a dagger and then forces her into the tank of an outhouse and drowns her.
Behind the Scenes
Edit
Named after Brat Pack actress Ally Sheedy.